Obituary for Adeline M. Black
Beloved Swinomish elder Adeline "Hattie" Black, 100, passed away at the Shuksan Healthcare Center in Bellingham on January 19, 2018. Hattie was the eldest member of the Swinomish Indian Tribal Community and the only centenarian known in recent tribal memory.
Adeline was born on September 8, 1917 in her great-grandfather's home at Lone Tree on the Swinomish Reservation. Hattie, as she came to be known, was the second child of William and Maggie (Joshua) Daniels and joined an older sister Margaret. Shortly after Hattie's birth, Willie Daniels passed away in the Great Influenza Epidemic then sweeping the country. Thereafter Hattie was raised by her mother and grandmother, Cecelia "Se-dul-tia" Joshua on the family property at Lone Tree. That place, and her grandmother, played formidable roles in shaping Hattie's identity. Her emotional ties to Lone Tree remained strong and firm until the very end of her life.
Hattie Black was a singular person at Swinomish and her long life reflected many stories integral to the history of this community. One of the most important was the transition that Natives experienced during that period when their homeland passed into the hands of incoming settlers and their traditional ways were increasingly forbidden. Hattie was the sole living elder whose memories directly connected Swinomish from Treaty Time (1855) to the twenty-first century. Her great-grandparents were Lower Skagit Indians who lived on Penn Cove where Hattie's grandmother, Se-dul-tia, was born about 1852. Se-dul-tia's father, Jim Quabahud, was renowned for his skills as a canoeman, an important occupation in the years before roads connected settlements and Native canoes were the transit system of the Salish Sea. Coupeville's pioneer merchants hired Quabahud, his large ocean-going vessel, and his three-man crew to transport goods from that town to Olympia, Port Townsend, Victoria and beyond.
Sometime in the 1870s Quabahud and his wife Sta-da-wah (along with other Lower Skagits) moved to the Swinomish Reservation: soon after, Jim Quabahud was allotted Lone Tree Point. The family's story reflects the migration of many Native people from their traditional homelands to the Puget Sound reservations established after Treaty Time. Se-dul-tia married Joshua Obida at Swinomish and although they had many children together, only one grew to adulthood due to the Native lack of immunity to newly-arrived diseases. After her husband's death in 1897, Se-dul-tia became known as "Mrs. Cecelia Joshua." In 1909 their daughter, Maggie, married Willie Daniels, a Native of Samish descent who had moved to Swinomish, and they settled on her mother's land at Lone Tree.
Hattie grew up in a magical world, one profoundly tied to place: the water, open sky and lush landscape of the western Swinomish shoreline all inspired her. She delighted in picking wild lilies at Kukutali, watching fishermen work the fish traps near her home, and visiting her favorite spot: the tall fir at Lone Tree. Hattie was raised in a household run by women who managed their own small truck farm, a place where Lushootseed was spoken and she was educated first and foremost by her grandmother: Se-dul-tia's stories about people, place, and custom informed Hattie's earliest years. As a young child, Hattie clearly recalled going to Coupeville with her grandmother. Together they walked to the waterfront where the wharf stands today and Se-dul-tia pointed out where her family's massive longhouse once stood on the waterfront, the place where she had been born three years before the Point Elliott Treaty was signed. Hattie recalled, "The families all lived there. They were at sea level. With their big canoes they would come and they'd go."
Educated in the La Conner School District from 1928 to 1940, Hattie entered a world that could not have been easy for her. In those years, as the Tulalip Boarding School closed, local resistance to Indian students attending public schools was marked and vocal. Nevertheless Hattie persevered and she came to greatly enjoy her school years. She helped ease the transition of other Native children into the classroom. She participated in many extra-curricular activities such as musicals and plays; she delighted when her classmates made the long hike out to Lone Tree from town. Hattie recalled "Mother would just round them up, set them at the table, and give them something to eat."
Shortly before she graduated from high school in 1940, her grandmother passed away and Hattie made the decision to strike out on her own. She answered an advertisement from a Bellevue family seeking a nanny and soon moved from the reservation to the city, a profound change. Suddenly she found herself cooking and cleaning for a family of five, something she had never done before. She recalled it as "very hard work." In 1943, just one year after Congress authorized the creation of the Women's Army Corps, Hattie enlisted. After basic training at Fort Oglethorpe, Georgia, Hattie was assigned to Brooks Air Force Base in Texas where she served as an Air Operations Specialist. She did everything from "preparing individual flight missions to dispatching aircraft from the control tower to packing and inspecting parachutes." She served until 1946 when she was honorably discharged. Her period of service was one of the happiest times of her life and she was proud to be part of that epic effort during WWII.
After briefly living in Seattle, Hattie relocated to the Redding, California area where she married Roy Black. Her later years were spent traveling around the world, touring places from Jerusalem and Egypt to Utah and Alaska. In 1977 she sold her family property at Lone Tree to the Swinomish Tribe: today the Thousand Trails resort leases some of that land. In 2004 Hattie moved back to the Swinomish Reservation once again. There she made friends with Julie Just and Joe Cilberto. In 2010, when Hattie could no longer live alone, Julie and Joe took her into their Bellingham home. Julie cared for Hattie through her move to Rosewood Villa in 2012 and subsequent transfer to the Shuksan Healthcare Center one month ago. She was with her when she passed away.
In her later years, Hattie and Julie often visited Swinomish for cultural events such as Canoe Journey and the annual Blessing of the Fleet each May. Hattie worked with the Swinomish Tribal Archive to document her life story and she donated her personal effects there as well. Her historic photos, grandmother's baskets, and Hattie's World War II uniform will help tell her story to future generations.
In August 2017 Swinomish honored Hattie on her 100th birthday at the Tribe's annual Clambake at Lone Tree. There, just feet where she had been born a century ago, the Tribal Community paid great tribute to this beloved tribal elder and World War II veteran. Chairman Cladoosby recounted her life history for all those present; songs of honor and tribute were sung. At the end of a warm summer afternoon, Hattie ended the day by insisting she walk up to Lone Tree itself to see "her tree", called da-chook-hay in her native Lushootseed, one last time. While there she reflected on the changes to her childhood home, remarked on the decline of the rich fishery that once thrived in the waters off Lone Tree, and expressed her hope that people would take better care of their world.
The Swinomish Indian Tribal Community, and Julie Just, would like to extend special thanks to the staff of Rosewood Villa (and resident Robert A. Smith), and Shuksan Healthcare for their tender and professional care of Hattie. Services will be held at the Swinomish Tribal Community Center on Friday, January 26, 2018 at 10:00 AM.
To send flowers or a remembrance gift to the family of Adeline M. Black, please visit our Tribute Store.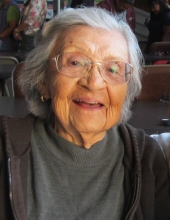 Thank you for sharing your
memory of Adeline
Provide comfort by sending fresh
flowers from our local florist.
No thanks, please don't show me this again.